Mystique Panel Fence Range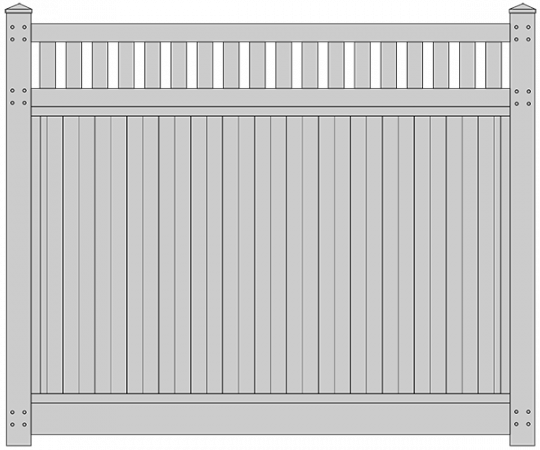 Mystique Fence with Lattice Specifications
Mystique Privacy Screen Fence with Lattice
Dimensions:
Price based on 2.39m panels.

Panel height measured from ground to top of post (excluding cap).

One post and post cap included with each panel.

Additional post required at the end of each fence run or where gate is required.

Top Rail Height: 73mm below post (including cap).

50mm gap between ground and bottom of plinth rail.

Colour panels have a steel insert in top rail.

Custom designs, heights and colours available on request.
Lattice Section:
323mm High – Top of Rail (excluding cap) to top of Mid Rail.

17 pickets at a 45mm spacing.

Included within the height of the fence – not on top.

Example: 1.8m high fence will be solid to 1.5m and Lattice 1.5-1.8m.

76mm x 22mm Picket available in White and Colour.

38mm x 38mm Picket available in White only.
Each panel includes:
1 x Post and Post Cap (127mm x 127mm).

1 x Plinth Rail (150mm x 50mm).

1 x Steel Insert for Plinth Rail.

1 x Top Rail (88mm x 51mm).

1 x Steel Insert for Top Rail – colour only.

1 x Mid Rail (88mm x 51mm).

15 x Mystique Panelling (220mm x 22mm).

2 x Top and Bottom Pollock Channel at 2290mm.

2 x Side Pollock Channel, 670mm less than post height (excluding cap).

25mm Tek Screws to connect Pollock Channel to Top and Bottom Rails.

65mm Tek Screws to connect Rails to Posts.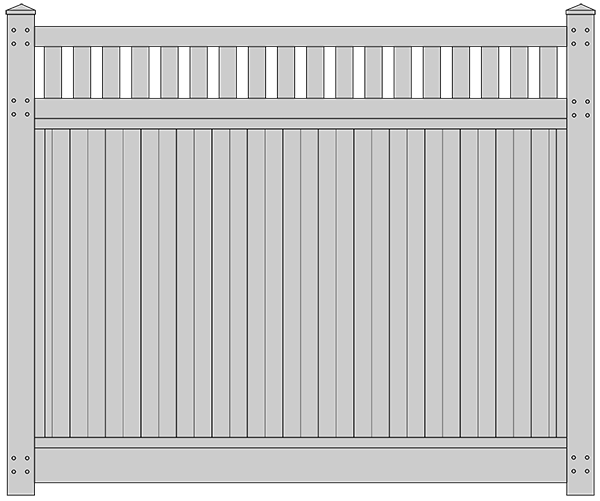 This fence design can be used up to the height of 2.1m.